IGNOU Enrollment Number Lost – How to forgot or recover it?
Are you a student of Indira Gandhi National Open University? I am sure the answer will be 'yes'. Because, that's why you have come to visit this page. My Ignou Enrollment number lost – This is the most common problem which the students usually face.They usually forget it because of natural human tendency to forget the things which they use very less.
Also, the students who takes admission in Ignou for the very first time usually do not know their Enrollment number. They wonder how they can know their Ignou enrollment no. and dowload Ignou identity card.
In this article, I am going to discuss with all the students how to know Ignou enrollment number if they have lost it. Sometimes, students just forget it and they do not find any way to recover it. They search all over the internet to find the "forgot enrollment number" option where they can recover it .To help these students I am going to share the complete information about it.
Before that I would like to tell the importance of IGNOU Enrollment Number. Why it is so much important for any student who is studying in Indira Gandhi National Open University?
Importance of Ignou Enrollment number
Without Enrollment number, it is difficult to know your admission status. Also, it is required to download Ignou hall ticket to appear in June and December term end examination or Practical examination. It has to be mentioned on the solved assignments which the students submits in the study centre concerned.
Most Importantly, the students cannot check their results if they lost their Ignou enrollment number.So, the students are advised to write their enrollment no. in their note book or keep their Identity card at safe place.Because, enrollment number can be also found on Ignou identity card.
Till now, I hope every student must have understand the importance of enrollment no. Now, moving forward let's discuss how students can recover it if their ignou enrollment number lost.
How to know Ignou enrollment number?
For students, It is very easy to find Enrollment Number. All, they have to do is to just follow few easy steps which we have mentioned below:
Step 1: Open Up Ignou official website: http://www.ignou.ac.in
Step 2: Then click on the "Student Support" link provided in the menu bar at the top. It will look like as show in the image below: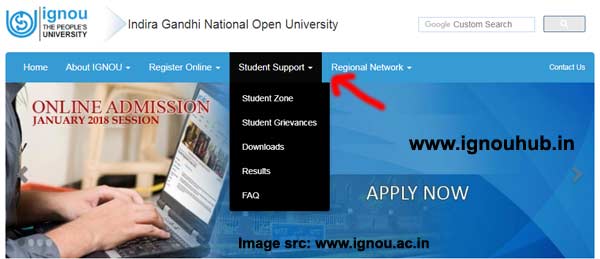 Step 3: As soon as you click on "Student Support" link, the sub menu will open up and you will find "Student Zone" link there. Please click on it. It can be seen in the image above.
Step 4: Now, a web page will open up where you will find lot of links and content. You have to find the "Admission" link and click on it.
Step 5: After clicking the "Admission" link, a new web page will open up again. Here, you will see number of different links as shown in the image below: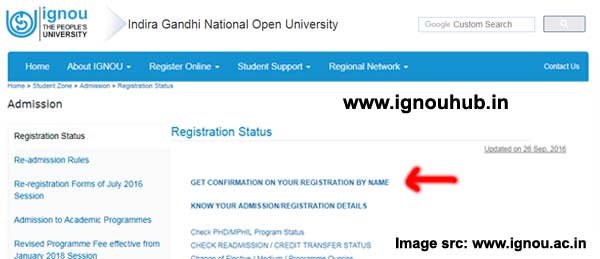 Step 6: You have to click on link with anchor text "GET CONFIRMATION ON YOUR REGISTRATION BY NAME"
Step 7: A new page will open up where you have to enter your name and Date Of Birth, Select Program and Regional Center. After entering all these mandatory details, please click on submit button. For reference, check out the image below: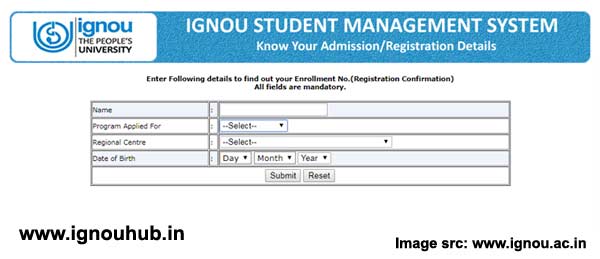 Step 8: After clicking on the submit button, you will see all your Ignou admission related details which also includes your Enrollment number as well.
So, as we mentioned above, these are very easy steps to know Ignou enrollment number if you have forget it or you have lost Ignou identity card.
The students who have taken new admission can use the same method to know their Ignou admission status as well.
Keep reading these useful blogs and stay updated!