IGNOU Idenity Card
In this article, learners can read about how they can download IGNOU ID card online? The complete guide about finding and downloading IGNOU Identity card online.
The first thing to do for anyone who takes admission in Indira Gandhi National Open university is to download and print their ID card online. But many learners don't know how they can do it. So, they always remain in confusion about it.
They search for IGNOU Id card at various searching platforms such as Google, Yahoo, etc. Also, they ask queries about it at social media platform such as Facebook, google plus, etc.
Related Article: Have you lost ID card? Get IGNOU Duplicate ID card without any problem.
So, I request the readers to read the post till end as here I am going to share the detailed information about how to download Ignou Identity card online, How they can take print out of it, What do with printed id card to make it valid for use, etc…
Download IGNOU Identity Card online
Now, let's discuss the step by step method to download Ignou identity card online. But remember, In this method, only those students will be able to download their ID card online who has taken admission online. For, the students who have taken offline admission, we will discuss the method separately.
Now, If you have taken online admission in Indira Gandhi National Open University, then follow these steps:
Step 1: In the very first step, students have to open up Ignou online admission website i.e. https://onlineadmission.ignou.ac.in
Step 2: Now, if you know your Username and password, then Login into the website. If you can don't remember your password, then you can click on forgot password option to retrieve your password on email.
Step 3: Login to the website by entering all the required details such as Username, password, Captcha code and clicking on "Login" button. The login form will look like as shown below: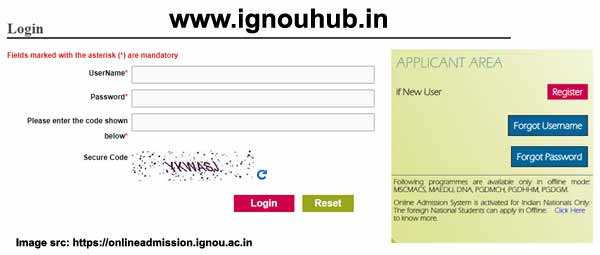 Step 4: Now, as you have logged into the system, you will be able to view the complete information about your admission or registration in Ignou. There, you will see a link "Print ID card" as shown in the image below:

Step 5: Click on it to open up your Ignou Identity card. The ID card will look like as shown below: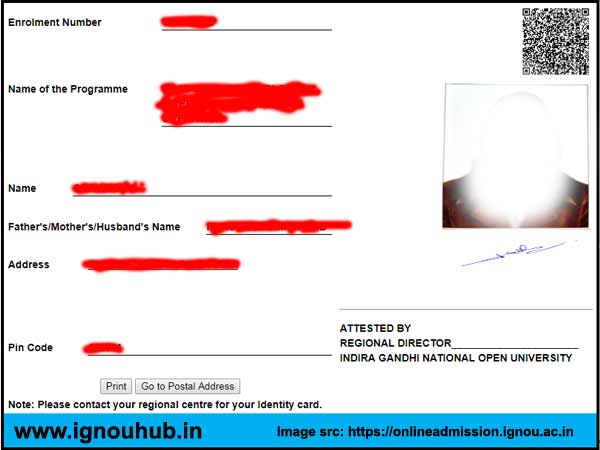 The identity card will look exactly like as shown above. For security reason, we have hide the information of the student on the Id card with red color.
Step 6: Now, you can simply click on the print button to print the id card or download it on your mobile/ desktop/ laptop/ tab, etc.
I don't think students will face any difficulty in understanding these six easy steps to download Ignou Id card. If you still face any issue, you can comment below, we will try our best to explain you in more easy way.
But remember, the card you have printed is not valid till now. Now, to make it valid, we have to follow few more steps which we have mentioned below:
How to validate printed IGNOU ID card?
Now, We will assume that student has printed the Id card.
The question arises: What to do next to make it valid for use? The answer lies on the same identity card. It has been clearly mentioned on the card that students have to attest it by Regional Director of the IGNOU regional centre concerned.
There are two methods by which students can attest their Id card from Regional Director. Students can follow any one of it.These are mentioned below:
In the first method, students can visit their Regional centre by themselves and get it signed immediately by concerned person.
In the second method, students can post their printed Identity card along with postal address print out to Regional Centre concerned.The concerned persons at regional centre will get it signed by authorised person and send it back to your address.
How to download IGNOU Identity Card Postal Address?
If students follow second method to attest id card, then they have to download Ignou identity card postal address. The easy steps to download it has been mentioned below:
Step 1: Locate the "Go to postal Address" button on the identity card. It is available near the "Print" button.
Step 2: Click on it and you will get the postal address card. Students have to take print out of it and send it along with their identity card to regional centre.
It will look like as shown below: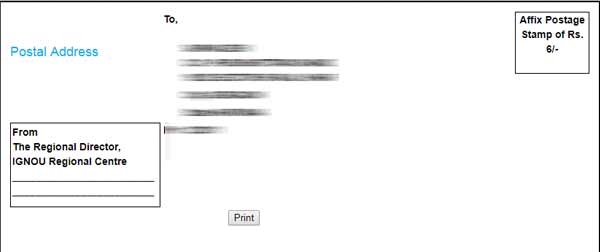 These were the easy steps to download IGNOU Identity card and to make it valid for us. After making it valid for use, you can produce this id card wherever it is required.
I hope you must have liked this article. So, please don't forget to share this information on social media. By doing this many other students will also read this useful information.